Join today
Rainwater Harvesting -
Design & Installation SELF PACED

Learn how to harvest, store and use rainwater safely and effectively at any scale of application.


Why rainwater harvesting is becoming an essential practice
Water, water everywhere, but not a drop to drink.
The global water shortage and many local restrictions are becoming all too common. What was once unimaginable is now a common occurrence for countries, regions, cities and people - not enough water to live on.


Rainwater harvesting is a viable and now practised trade that anyone can learn to apply at the personal, professional, municipal or institute level if you have the right information and instructor.


Gord Baird is an American Rain Catchment Systems Association (ARCSA) Accredited Professional ASSE Certified International Rainwater Designer and Installer and has actively designed and installed dozens of rainwater harvesting systems for potable and irrigation use at all scales of application.


This course is for anyone who sees that learning to harvest, store and use rainwater safely is a valuable skill for their professional or livelihood.
Learn how to:
research, design, install and maintain
rainwater harvesting systems.
NOTE: Learning how to use the program Sketch Up to render your designs is not part of this course.
Who is this workshop for?
This workshop is for a wide range of people from differing contexts, including but not limited to:
-
Anyone
faced with
dwindling or limited water sources
;
-
Regulators
that are seeking to learn more about
alternative waste management trends
;
- Professionals working remotely who have moved to their summer cottages and now need to address their lack of water;
- Home Builders/contractors (timber-frame, log home, natural builders) working on remote islands;
- Engineers;
- Homeowners who are thinking about building;
- Tiny homes on wheels seeking to ensure their systems are mobile;
- Temporary camps seeking a responsible method to deal with water needs and otherwise harmful wastes;
- Architects & Waste Water Designers, or professional associations seeking a course to meet annual training needs;
- People with water issues and a lack of water who want to improve their water systems; and
- Permaculture designers and educators.
NOTE - No previous knowledge of rainwater harvesting is required to attend this workshop.
Learn how to create and maintain rainwater harvesting systems!
Course Sessions and Content
Course Logistics
WHEN
Any time that works for you! Digest the course content at your own pace, knowing that you have lifetime access to the material. This course becomes another valuable resource in your land management toolbox.
WHAT
A series of video presentations, 'how to' videos, design worksheets, assignments, equipment lists, parts lists, and other resources to equip you to evaluate, design and install rainwater harvesting systems.
WHERE
Online and accessible from anywhere in the world, with lifetime access to the course materials and recordings.
Pricing
Community
A community of peers who are on the same journey as you, to interact with and learn from.
Don't hesitate
You'll have this course as a LIFETIME resource for projects today or a decade from now.
Who is the course a

good fit

for?

This course may be of use to you if you are:
interested in learning how to design for your unique context;

feel ready to put the information gained in the course to practical use;

ready to learn;

excited to dive into the possibilities of different rainwater harvesting systems;

realistic in your expectations, or willing to have your expectations of what's possible challenged.
Who is this course
NOT a good fit
for?
You have no time, you're enrolled in 50 online courses this year and this will be but another course that you don't use.

Those who think rainwater harvesting is a cool idea, but have no desire to build your skill or capacity to design and implement these essential elements.

Anyone who thinks rainwater harvesting is the only way to meet the water needs of a site. Rainwater capture and use is one way to do so, and effective implementation and management is critical to its success.
Learn from Instructors who can save you hundreds of hours of mistakes
"We all learn from mistakes, they just don't have to be our own."
Meet the instructor
Gord Baird
Gord Baird's background and experiences stem from building the Eco-Sense homestead, a Living Building Challenge project that includes net zero water and waste systems, located in the District of Highlands on Vancouver Island. Addressing sustainable building, waste and water systems in the context of conventional codes and standards spawned an interest to change policy. An unexpected career developed from the passion to stir the pot of sustainable water stewardship, compost toilets, policy and governance. He is an American Rain Catchment Systems Association (ARCSA) Accredited Professional and has actively designed and installed dozens of rainwater harvesting systems for potable and irrigation use at all application scales.

Gord's policy work includes being a technical editor of the Province of BC's regulations on compost toilets and greywater, consulting for municipal and regional governments on rainwater harvesting for potable use and developing a non-potable water reuse guidebook for commercial and multi-family residential buildings for a regional government. He is elected municipal councillor, the 4-year vice-chair for the CRD Regional Water Supply Commission, and an 8-year commissioner for the Juan de Fuca Water Distribution Commission. Hands-on work includes co-authoring the Essential Composting Toilets book, designing and installing over 30 residential potable rainwater systems and strata small water systems. He is also an ASSE internationally certified rainwater harvesting designer and installer.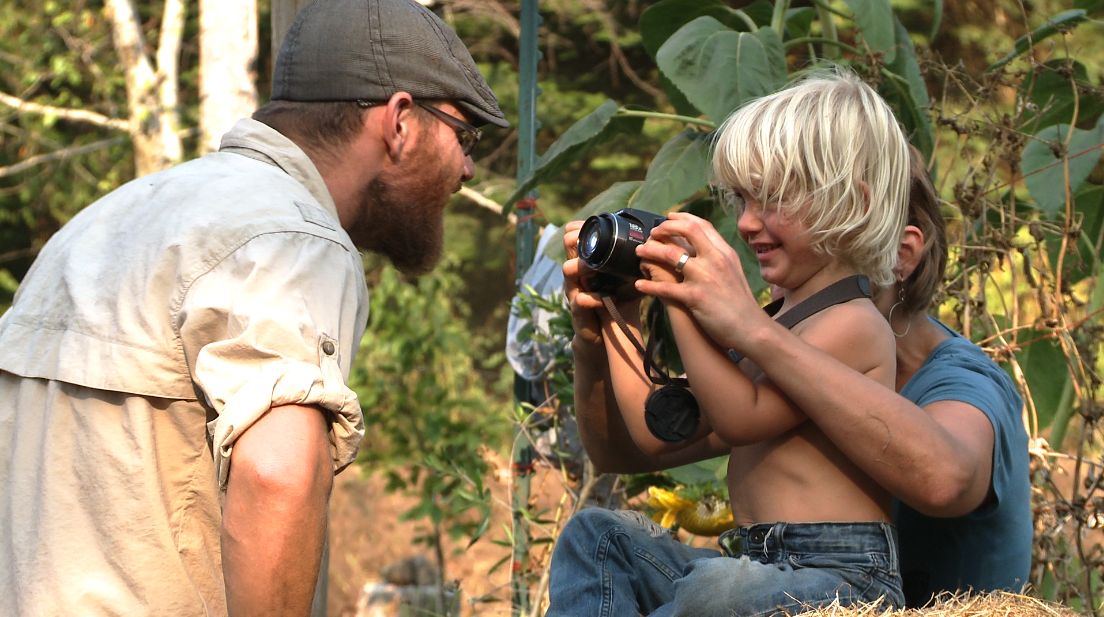 Meet the Host
Javan K. Bernakevitch
Javan Bernakevitch is a life and land designer, who speaks, writes, teaches and consults with clients, businesses and farms worldwide through All Points Design and RegenerativeLiving.online.
He believes that if we don't design our lives, they'll be designed for us, and not for our benefit. He says, "If humans want to have a long life here on our planet, we best act like we are part of the ecology." He works to ensure that his clients' lives and landscapes get better every year.

Integrating Keyline Design, Holistic Management, Permaculture, the Soil Food Web, Myco-Integration, Project Management and Business implementation, he understands and emphasizes the importance of balancing biological systems - soil, water-harvesting, landscape rehydration, composting, growing food and biological waste-water treatment - with financial viability. A career focus on regenerative retrofits has taken him across North and Central America, Europe and Africa.
Our students love us
Gord is gifted with a way of explaining that makes complex topics clear, and delivering the information in an insightful way that only someone with perceptive insight of his "audience" allows. His approach to sharing information is refreshing and liberating in its practicality and delivery. It gives me pleasure to be able to highly recommend his teachings.
TAtha
This deeply informative, fascinating workshop by Gord Baird of Eco-Sense Living, should be mandatory for everyone moving from a city to a gulf island, and certainly would be a great resource to teach self-sufficiency in the face of climate change, and toward next level protection of sensitive groundwater resources.
Tobi
I've taken dozens of ecological design & permaculture workshops over the past 20 years and the workshops I've taken with Gord (water harvesting & integrated landscape systems) stand out at the top of the pack. His passion, thorough research and most of all his unique project experiences add up to a learning environment that is difficult to match. I highly recommend learning from Gord.
Tayler Krawczyk
Deeply valuable knowledge taught by people who are masters in their line of work and who care, both about the subject and the students.
SERGEI Krasikov
This course is an incredible resource for any person who is interested in rainwater harvesting for any reason. I really appreciate that Gord brings to it the perspective of working with existing regulations and regulators, and making safe systems.for a variety of different applications and scales.
Deborah Berman
It was fantastic to have such a wealth of tips and personal experience alongside the technical materials. The additional guidance on business operations was unexpected and extremely welcome.
Sarah Parker
Learn how to:
research, design, install and maintain
rainwater harvesting systems.
NOTE: Learning how to use the program Sketch Up to render your designs is not part of this course.
Frequently asked questions
Do I need any experience to take this course?
Absolutely not! No previous experience is necessary!
Can I message you with questions?
This is a self paced course and there is no direct interaction with the instructor.
Will have lifetime access to the course material?
YES! You'll have lifetime access to the course.
Is the course refundable?
The course is non-refundable.
Don't hesitate
Learn how to create and implement rainwater harvesting systems.
Created with